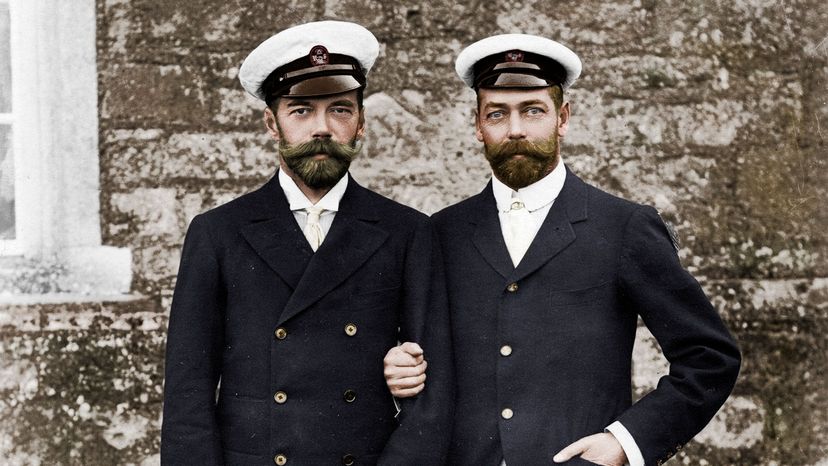 Everybody on Earth is related by virtue of the fact that we're all the distant grandchildren of the very first humans. Exactly when these grandparents were alive is up for discussion, but scientists think it was probably somewhere between 550,000 and 750,000 years ago. The first humans had children and they became brothers and sisters, who made way for aunts, uncles, nieces, nephews and, most confusingly, cousins.
The word "cousin" is often used loosely across cultures, and even throughout American history.
"Sometimes aunts or uncles have been called cousins, and the word cousin has also been used in a general way to refer to any relative," says Jenifer Kahn Bakkala, a genealogical researcher and writer who sits on the board of directors of the Association of Professional Genealogists. "Another word used historically is 'kinsman' or 'kinswoman,' which refers to a person with any sort of familial relationship to the subject, especially a relationship that is complex or undefined."
However, the modern cousin relationship is the one used most often to describe the genetic proximity between two people who are contemporaries or near contemporaries. But since you're related — albeit very distantly — to everybody you see in the airport, describing a distant familial relationship between two people can get complicated. We have first, second and third cousins, we have cousins once removed, we have half cousins. We even have kissing cousins. But what does it all mean?
First, Second and Third: The Numbered Cousins
You're probably most familiar with your first cousins — the children of your parents' siblings. But there's a practically infinite number of degrees by which people can be related to each other.
"First cousins share grandparents, second cousins share great-grandparents, and third cousins share great-great-grandparents, and so on," says Bakkala. "In general, first cousins share more genetic material with each other than second cousins do, and second cousins share more genetic material than third cousins."
You can be double first cousins when two full siblings from one family marry two full siblings from another family. It's wild, but when those siblings are both identical twins, the resulting offspring are not only double first cousins, they also share the same amount of DNA as full siblings.
Another specification is "half." Just as you can be half siblings when you share only one parent, you can be half cousins when you share only one grandparent.
What Are 'Removed' Cousins?
You've probably heard of cousins being once or twice "removed," but almost everybody forgets what it means as soon as it's explained to them. But here it is again: "Removed" is another way of saying "one generation away."
According to Bakkala, first cousins once removed means that two people are one generation away from being first cousins, although the "removed" relationship doesn't specify whether a person is a generation before you or a generation later. For example, your first cousin once removed is either your first cousin's child or your parent's first cousin. A first cousin twice removed is either your first cousin's grandchild, or your grandparent's first cousin.
"There really is no limit to the number of times two cousins can be removed from each other," says Bakkala. "For those who are alive today, cousins who are many times removed are inherently from the distant past. It is rare to be more than a few times removed from a cousin who is your contemporary."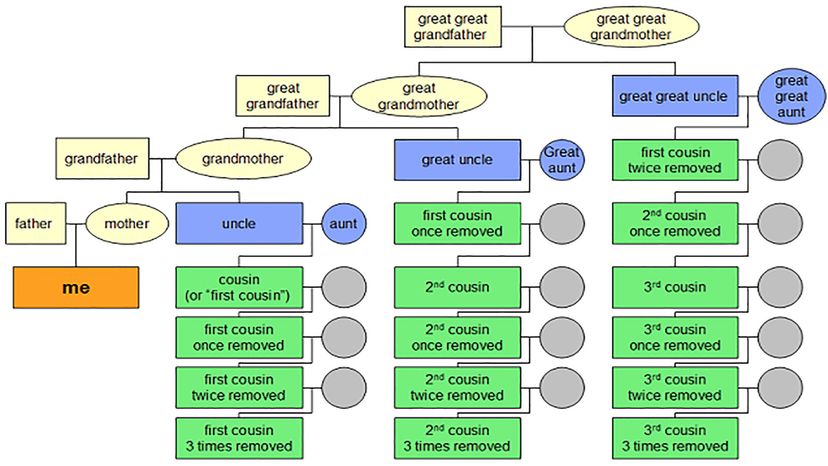 What Are 'Kissing' Cousins?
Marriages between cousins, also known as consanguineous marriages, have been pretty common throughout history — especially in small communities where the pickings are slim as far as potential marriage partners go. But it happens these days, too: As of 2022, more than 10 percent of marriages worldwide were between first or second cousins.
"In some situations, especially in insular communities, marriages between distant and not-so-distant cousins have taken place many times over many generations," says Bakkala. "In these cases, their descendants often have more than one relationship to each other. It's possible, and in fact not uncommon, for two people to be — for instance — fourth cousins and sixth cousins once removed at the same time. Tracing the relationship in two different ways brings about two different results."
Although it's not that rare, marrying your cousin is extremely taboo in some places. In some countries — China, Taiwan and the Philippines among them — cousin marriage is entirely outlawed. In the U.S. some states outlaw sexual relations, cohabitation or marriage between cousins, and some prohibit all three. Interestingly, some states like Arizona and Indiana outlaw cousin marriage in those under the age of 65.
Although consanguineous offspring have a reputation for high mortality rates, mortality in first-cousin progeny is around 3.5 percent higher than in children whose parents aren't cousins. And even if the children of cousins survive, there are other genetic considerations to account for, like an increased chance that recessive genetic traits will be expressed in their offspring.