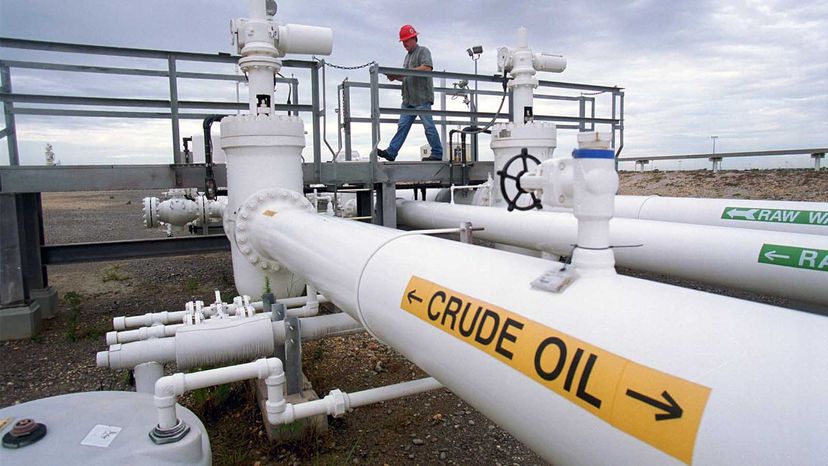 When Americans talk of "oil reserves," they're actually talking about the United States Strategic Petroleum Reserve (SPR). The Strategic Petroleum Reserve is the U.S. government's stash of crude oil that's stored in four salt caverns along the Texas and Louisiana Gulf Coasts. The reserve has an authorized capacity of 714 million barrels, though the most oil the reserve has ever held was 726.6 million barrels Dec. 27, 2009. As of Oct. 14, 2022, the SPR contained 405.1 million barrels of crude oil. The capacity of the SPR makes it a deterrent to oil import cutoffs and a key tool in foreign policy.
The United States created the SPR after the 1973-1974 oil embargo. It was designed to offset further disruption in commercial oil supplies that would compromise the United States' security position or economy. It was also necessary for the United States to meet its obligations according to the International Energy Agency's (IEA) emergency oil supply requirements.
When Can SPR Oil Be Released?
There are set rules on when SPR oil can be released; they are defined in the Energy Policy and Conservation Act (EPCA), and include three possible examples for when drawdowns of oil are permitted:
Full drawdown: The president can order a full drawdown of the Reserve to counter a "severe energy supply interruption." EPCA defines this as "a national energy supply shortage."
Limited drawdown: A circumstance exists that constitutes, or is likely to become, a domestic or international energy supply shortage of significant scope or duration.
Test sale or exchange: The Secretary of Energy is authorized to carry out test drawdowns and distribution of crude oil from the Reserve. In an exchange, the the oil must be returned to the SPR within a certain time period.
The maximum drawdown capability is 4.4 million barrels a day, and it takes 13 days for SPR oil to hit the open market after a drawdown. But just announcing the release often has an immediate effect on oil prices.
To date most drawdowns have been sales or exchanges. For instance, after Hurricane Katrina when the damage to the Gulf of Mexico region caused widespread and critical disruption of oil production and circulation, then-President George W. Bush authorized the sale of 30 million barrels as part of an IEA collective action.
Historic Drawdowns
The most recent drawdown was Oct. 19, 2022, when President Joe Biden announced 15 million barrels from the SPR would be put on the crude market to be delivered in December. This drawdown completes the historic, 180-million-barrel drawdown announced by his administration March 31, 2022.
The March 31 announcement was the largest release of oil from the strategic reserves in U.S. history. The drawdown placed 1 million barrels on the crude market daily — every day — for six months.
"The world has never had a release of oil reserves at this 1 million per day rate for this length of time," according to a statement from White House. "This record release will provide a historic amount of supply to serve as a bridge until the end of the year when domestic production ramps up." The U.S. Department of Energy coordinated with international allies and partners to also release additional oil from their strategic reserves, as well.
Before that, on March 2, 2022, the U.S. Department of Energy announced another sale of 30 million barrels of crude oil. That drawdown also was coordinated with member countries of the IEA to help address supply disruptions related to Vladimir Putin's war on Ukraine.
While the March 31 drawdown was unprecedented, it is not considered an emergency. There have been just three emergency drawdowns since the SPR was established: One after Hurricane Katrina in 2005 and one during Operation Desert Storm in 1991. The most recent was in 2011 when then-President Barack Obama released 30 million barrels of oil onto the world market in response to production disruptions in Libya. Other countries in the IEA matched the amount, placing 60 million barrels of oil into circulation.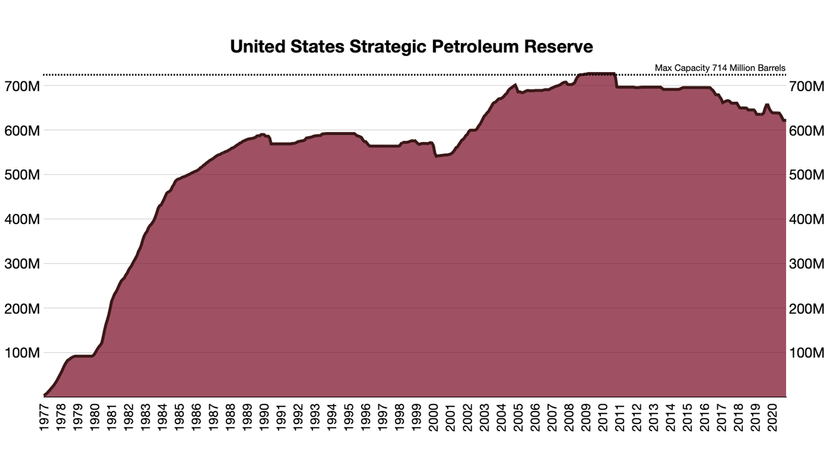 How Long Can the SPR Last?
In the Oct. 18 announcement, Biden said the administration is committed to replenishing the SPR and intends to repurchase crude oil when prices drop to or below $67 to $72 per barrel. To put that in perspective, crude oil was trading around $85 per barrel Oct. 19, 2022.
So the question remains, how long would the SPR last the United States in the case of a full drawdown? Though the Strategic Petroleum Reserve has proven to be a reliable safeguard against short-term crises, it's hard to imagine a situation so catastrophic that the United States would simply run out of oil.
If the president must order an emergency sale of SPR oil, it can be pumped at a maximum rate of 4.4 million barrels per day for up to 90 days. Afterward, the drawdown rate declines to 3.8 million barrels per day for another 30 days. The rate drops again for up to 180 days until the stock is depleted.
However, if the president chooses to release it at 1 million barrels per day, the current stock (again as of Oct. 14 it was 405.1 million barrels of oil) would last for just more than a year without it being replenished or with no other sources of oil. And given the United States consumed an average of about 19.89 million barrels of petroleum per day in 2021, 1 million barrels a day probably wouldn't go very far.
Originally Published: Aug 29, 2012