Russian President Vladimir Putin announced a "partial mobilization" during a national address Wednesday, Sept. 21, about the ongoing war in Ukraine. In it, he called up as many as 300,000 reservists and hinted that he might even use nuclear weapons to protect Russian territory.
Here's what this means for Russia and the war in Ukraine.
What Does Partial Mobilization Mean?
Mobilization is a term used when certain groups are called up to serve in Russia's armed forces. It's different from a general mobilization, which is when people from the general population are drafted. Czar Nicholas II ordered a general mobilization of the Russian Army July 30, 1914. Two days later, Germany declared war on Russia.
Retired Marine Corps Lt. Colonel David Jonas, who also served as a nuclear nonproliferation planner for the Joint Chiefs of Staff, says the partial mobilization will mean the call up of reserve soldiers and the movement of other troops to the Ukraine theater. "It is at least definitionally less than a full mobilization, which means that all national military resources are to be organized and directed in support of a military objective."
Russian defense minister Sergei Shoigu said Sept. 21 that Russia could call as many as 300,000 reservists.
Those are likely to be reservists who have already served in the Russian military and those with special military skills or combat experience. All current Russian military service contracts are also expected be extended indefinitely.
How Many Reservists Does Russia Have?
The Russian reserve has more than 2 million former conscripts and contract soldiers, but few are actively trained or prepared for war. According to the Center for Strategic and International Studies, just 10 percent receive training after their initial service.
"There is no question that Russia has that many reservists to call up," Jonas says. "But reservists are invariably not as well-trained as regulars. And Russian regulars have performed horribly on the battlefield, so the reservists will presumably be much worse."
The mobilization "may address a manpower issue for Russia," Pentagon press secretary Air Force Brig. Gen. Pat Ryder said during a news conference Sept. 22. "What's not clear is whether or not it could significantly address the command and control, the logistics, the sustainment and importantly, the morale issues that we've seen Russian forces in Ukraine experience."
Ryder also said calling up reservists won't "change the operational facts on the ground, which are that the Ukrainians will continue to fight for their country. The Russian military is dealing with some significant challenges on the ground and the international community will stand behind Ukraine as they fight to defend their country from an invasion."
How Are Russian Citizens Responding?
Information is so tightly controlled by Russian state media, it's no surprise much of the population have been supportive of the war, given the way it has been portrayed inside Russia, Jonas says. But we know anti-war protests have broken out across Russia since Putin's announcement, including in Moscow. As many as 1,300 have been arrested. "The fact that the protests are now widespread is a sign of real dissatisfaction with the war," Jonas says.
Jonas says the mobilization also signals reservists want no part of in this operation.
"[The mobilization] shows that the 'special military operation' has failed and most reservists have no desire to participate in this war," he says. "It [also] is a tacit acknowledgment of a failure to achieve military goals. It will take time to train, organize, equip and transport [reservists] to the battlefield so the effects may not be felt for months."
Miles-long queues of cars also have formed on the Russian borders with Georgia and Finland, as men of service-age try to flee the mobilization. Other European countries, including Lithuania, Latvia, Estonia and the Czech Republic, however, are denying their entry.
Why Is This Mobilization So Significant?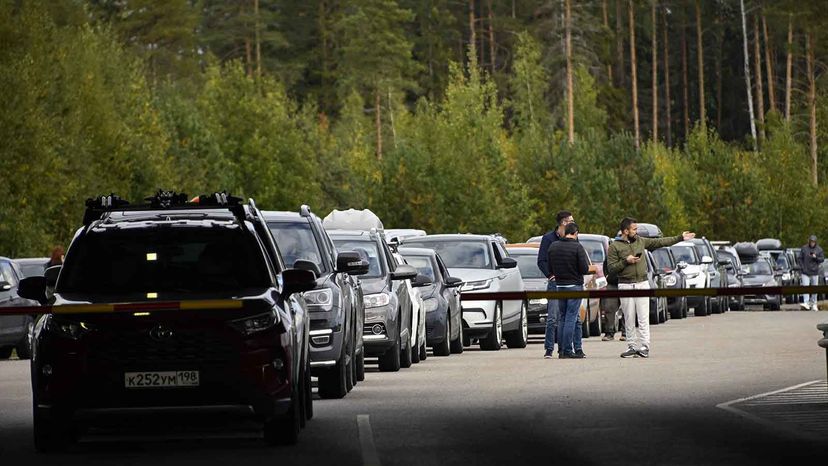 This is Russia's first military mobilization since World War II and is highly significant, says Jonas, for several reasons. For Russia to even ask for help is a major embarrassment and admission of failure, he says.
But what concerns Jonas most is Putin's nearly outright threat of nuclear war. Jonas is an expert in nuclear nonproliferation who has served as general counsel for the National Nuclear Security Administration at the U.S. Department of Energy.
"It is absolutely outrageous that Putin has now twice threatened the use of nuclear weapons," he says. "Remember that nuclear weapons have not been used in anger (war) since 1945. To use them now would end the nearly 80 years of non-use of nuclear weapons. It doesn't matter whether he uses 'only' a tactical nuclear weapon because such use would literally change the security posture of the entire world."